December 14, 2016- January 5,2017 CBC season
No monthly meeting
To find out more about Christmas Bird Counts  go to www.houstonaudubon.org to find one you'd like to help with.
January 17, 2017
Mason Bees as Pollinators and helpers with Ag Valuation, Johana Huff
February 21, 2017
Concho Valley Birding
Dr. Terry Maxwell joined the ASU faculty in 1976 in the Department of Biology and spent 38 years in the department until his retirement in May of 2014, including seven years as department chair. He also served as curator of the Birds Collection in the Angelo State Natural History Collections and conducted field research throughout North and South America.
In addition to his teaching and research, Maxwell penned a weekly column, "Naturally Texas," in the San Angelo Standard-Times that included his professional-quality drawings of Concho Valley animals and birds. His colorful blackboard chalk drawings of various animals were also a permanent fixture in the Biology Department.
March 21, 2017
Northern Bobwhite Quail Studies with Amanda Gobelli
April 18, 2017
To be announced
Past Events
November 15, 2016
An Aboriginal Campsite on the San Saba River Possibly Dating to the Spanish Colonial Period
Charles (Chuck) Hixson has been involved in archaeology for over 30 years, including graduate studies at the University of Texas at Austin, professional work, and as a member of the Llano Uplift Archaeological Society (LUAS). Archaeological work in San Saba County includes, surveys for electrical transmission lines and water pipelines and test excavations in the LCRA Nature Park. In recent years, with Chuck as the principal investigator, the LUAS has been active in San Saba County conducting archaeological surveys on private land. Late in 2014, the LUAS excavated a possible historic Indian site on the San Saba River, which will be the subject of his talk.
In the 1700's, many Toyah camps dotted the Edwards Plateau with Perdiz points and European components the norm, except for one lone camp which contained neither. This camp on the San Saba River remains a mystery. Chuck Hixson, Professional Archeologist and member of the Llano Uplift Archeology Society (LUAS) will discuss the Wilson Site on the San Saba River. Hixson received his BA and MA degrees in anthropology from the University of Texas at Austin. Hixson's thesis project dealt with southwestern pottery making technology, specifically with a study of the paint on Mogollon Black on White pottery. Hixson has developed this interest into an art. Using open firing pits and aboriginal techniques, he produces exquisitely thin walled, bone tempered vessels from clays he has collected from throughout the local area
October 18, 2016
Birding Costa Rica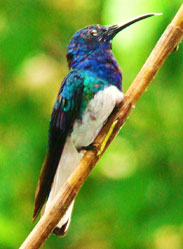 Have you ever wanted to visit the tropics in late winter? How about a trip where you can observe the birds and other animals while there? That's just what Daniel and Dianna Hodges and Jimma Byrd did the first week of March 2016. They joined a tour offered by JBS Journeys, out of Austin, to search for the elusive Resplendent Quetzal.
They'll share the adventure with San Saba Bird and Nature Club, on Tuesday, October 18, 2016. Come join us at the San Saba Civic Center, 1190 S. Thomas Drive, beginning at 2 PM. Through photos and stories take a virtual journey to a country that hosts 52 species of hummingbirds and incredible species diversity at every level. Everyone with an interest is welcome to attend.
Daniel Hodges is a (mostly) retired pharmacist from Lampasas, who owned, with his partner, Hodges and Sargent Pharmacy for over 30 years. He grew up in Lampasas and graduated from the University of Texas Austin. He and his wife of more than 40 years, Dianna, a retired middle school science teacher, have two grown daughters, and three grandchildren. He is a member of The Cornell University Laboratory of Ornithology, The American Birding Association, The Texas Ornithological Society, President of Williamson Audubon Group, and Treasurer of San Saba Bird and Nature Group.
Jimma Gray Byrd is a member of Texas Ornithological Society (TOS), a Texas Master Naturalist, and a Master Gardener. Ms. Byrd founded and is president of San Saba Bird and Nature Club. She is a TOS board member and represents thirty-four counties within the Edwards Plateau region for the state birding organization. Ms. Byrd is a fifth generation Texan and earned a bachelor of science from the University of Nevada Reno. She has been enjoying and studying birds for over 40 years.
September 20, 2016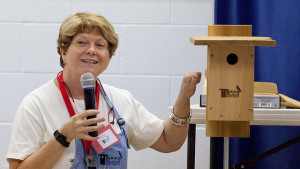 Attracting Bluebirds with Pauline Tom
Pauline Tom is a wife, mother, and grandmother who delights in spreading the joy of bluebirds and making memories. Co-founder of Texas Bluebird Society, Pauline Tom envisioned an organization dedicated to providing Texas-specific bluebird information and to spread the bluebird population to new locales.  Texas Bluebird Society President 2001 – present.  She hopes someone will take the reins really soon. North American Bluebird Society Board of Directors, 2001 – 2007.She has been Recognized by the North American Bluebird Society for leadership in bluebird conservation and for contributions to the organization.